EIF has been working in the railway market over the last nine years, providing through a team of specialized and very experienced personnel, services on the following areas: sale, refurbishment, maintenance and spare parts supply to Diesel-Electric locomotives apart from the participation in refurbishment and maintenance services to wagons (freight cars) and permanent way maintenance equipments.

This resumption of the railway freight transportation, lead EIF the opportunity to position itself as a strategic partner, providing solutions to improve and renew used and new locomotives' fleets.

"EIF's mission is to contribute to the growth and strengthening of the railroad in Brazil."

HP.Hora Project




è

Sales and Lease new and used locomotives


è

Refurbishment and maintenance of electric and diesel-electric locomotives from any technology source


è

Manufacture of locomotives of 600 HP to 2,000 HP


è

Gauge adaptation


è

Logistics


è

Sale of Spare Parts and components


è

Maintenance Contracts


è

Full Service Projects


è

Retrofit and maintenance of permanent way maintenance
equipment


è

Operation and maintenance of rail grinding machine


è

Refurbishment and maintenance of wagons (freight cars)


è

Design and manufacture of catenary maintenance vehicles


è

Training



Major Customers





è

CSN – COMPANHIA SIDERÚRGICA NACIONAL


è

VALE


è

MRS LOGÍSTICA S/A


è

ALL – AMÉRICA LATINA LOGÍSTICA S/A


è

FCA


è

USIMINAS


è

CTS – COMPANHIA DE TRENS DE SALVADOR


è

SUPERVIA


è

CBTU-STU/REC


è

CONSÓRCIO NOVA VIA, PORTO ALEGRE, RS


è

GMF/COMSA


è

CPTM – COMPANHIA PAULISTA DE TRENS METROPOLITANOS


è

CENIBRA


è

GERDAU AÇOMINAS

è
COMERCIALIZAÇÃO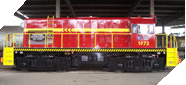 è
MANUTENÇÃO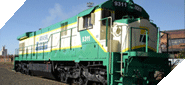 è
LOGÍSTICA